Arm Fat Removal
Sono Bello's arm liposuction procedures provide a shorter and more comfortable recovery process than other solutions. Get rid of excess arm fat and back to the life you love just days after your procedure. 
See Before & After's
Get a Free Consultation to Claim Employee Pricing!
How much fat can TriSculpt® Body Contouring Micro-Laser Liposuction remove?
TriSculpt® Body Contouring Micro-Laser Liposuction can remove 50-70% of fat in a treated area. A good way to estimate your results with TriSculpt™ is to pinch the area you want to have treated and feel how deeply the muscles are beneath the skin. Feeling the muscle is most easily done by contracting the muscle and rubbing your hands over the skin. The distance between the skin and the outside of the tensed muscle is the thickness of your fat layer. If you would be satisfied with a 50% reduction in the fat layer, you would be a good candidate and pleased with your TriSculpt® results.
What happens to the skin after the TriSculpt® Body Contouring Micro-Laser Liposuction procedure removes the fat?
One of the wonderful benefits of Sono Bello's TriSculpt® Body Contouring technique is that it leads to the formation of new collagen which promotes skin tightening. Immediately following the procedure, the skin will be loose where the fat was removed, however, within 24 hours the skin's natural retraction and the body's normal healing mechanisms help promote skin retraction. For patients above age 60 or patients who have lost significant weight, complete retraction of the skin is not possible. If you have any questions, your Sono Bello physician will give you realistic expectations about your outcome.
What does the process of recovery include after TriSculpt® Body Contouring Micro-Laser Liposuction?
Following your procedure, we will send you home with a post-procedure kit. Your surgeon will call you within 24 hours to check in and answer questions. We will schedule a follow-up visit to check on your healing and recovery. A compression garment is typically worn for at least the first 10 days and as directed by your surgeon. This garment can be worn underneath your clothes. Normal basic daily activity can be resumed immediately, being mindful to listen to your body and take breaks as needed as overexertion can cause increased swelling in the treatment areas.
How Arm Liposuction Works
Localized Awake Anesthesia
Patients remain awake throughout the procedure, receiving local anesthesia in the area(s) of treatment. For patients concerned about being awake during the procedure, we provide medications to promote relaxation and comfort.
Power-Assisted & Micro-Laser Liposuction
Our physicians use power-assisted technologies with micro cannulas and gentle suction to effectively remove unwanted fat. Special laser-assisted equipment is used for the finishing touches.
Faster Recovery
No general anesthesia required. No extensive scars remaining. Micro-laser arm liposuction at Sono Bello is quick and easy. Plus, the results are instant ⁠— bruising generally subsides within 7 days.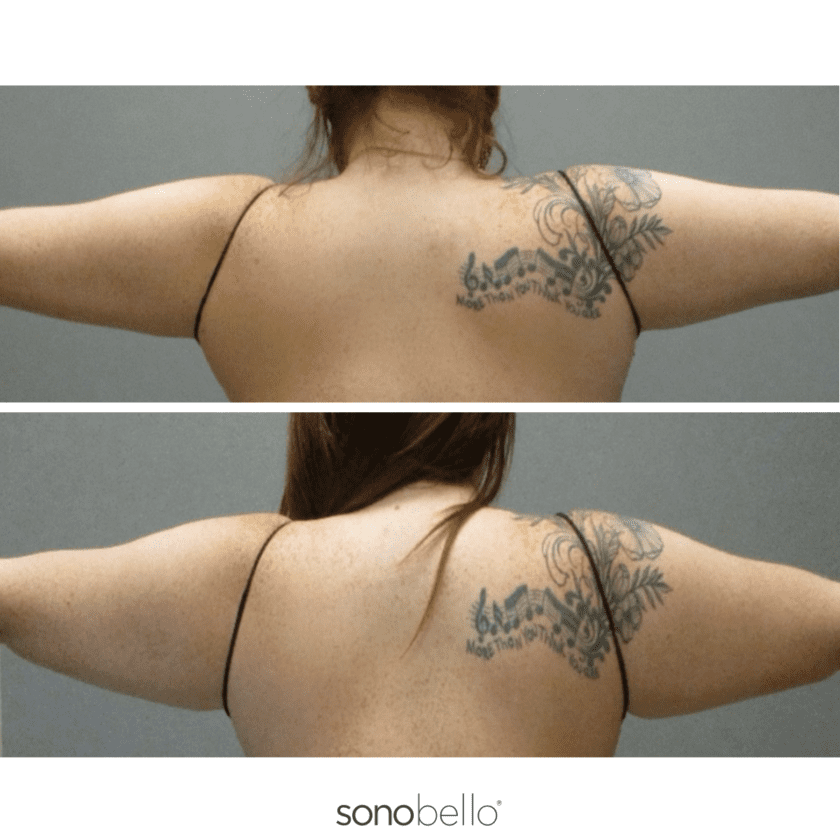 Arm Before and Afters
Wear what you want, and stop hiding your body! Try liposuction from Sono Bello: a minimally invasive micro-laser procedure that, in just one session, can improve arm appearance and contour by permanently removing extra fat.1

Individual results may vary. Images and testimonials do not constitute a guarantee of any particular outcome.
See More Before & After's